About the company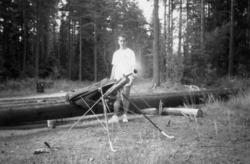 A 50 hour test of the first prop, anno 1988.
Johan at the picture is definitely more grey
haired now.
It was in 1988 when four hangglider pilots with a common desire established Swedish AeroSport. Being mechanical design engineers we were well qualified to devise what was to become a totally new and pioneering approach to the concept of power assisted free flight. We designed a product that was to revolutionise the way in which any hang glider pilot, perhaps isolated or living in the flatlands, could get into the air in a wide range of conditions and at the same time remain as autonomous as a traditional hill pilot.

In early 1990, after two years of hard work, the Mosquito Motor Harness was released on the market. It gained the immediate approval of the Swedish Aviation Authorities.

Over the years the name Swedish AeroSport has become synonymous with uncompromising excellence. Continuous quality control together with the use of latest technology and materials guarantee a safe and long-lasting product, exemplified by Swedish AeroSport's 3-year warranty. A full range of spare parts for all existing models is available.

So far over 1400 pilots have joined this independent group of free flyers. How about you?